Source: https://tcpshield.com/
We use this plugin to prevent DDOS Attacks, this works by touting our server thru around 200 other servers, not only does it prevent DDOS attacks by use of CNAME as appose to a a standard A Record but it serves as a reliable content delivery network for players over seas.
Highly available DDoS mitigation platform
Trusted by 2000+ player networks since 2015. Stay online no matter what threats face you. The ideal solution for gaming networks that demand low latency and 100% uptime.
ABOUT
Built for gaming networks that demand 100% uptime
Whether you face complex network layer attacks, or multi-vector layer 7 attacks involving query and handshake floods, these threats are mitigated thanks to our proprietary filtering and proxy software deployed across our edge.
Load Balancing

Whether you have a single origin server, or hundreds in multiple datacenters, our proprietary proxying solution delivers traffic to the least-connected backend server.

Fault Tolerant

If one of your backend servers crashes, it is automatically removed from the load balancer so your players can continue to enjoy your content.

Industry Leading Layer 7 Filtering

Whether you are victim of a bot attacks, query floods, or fake session attacks, our advanced verification engine blocks even the most complex attack vectors.

Low Latency

With connections to over 50+ internet exchange points, and peering with over 250+ networks we provide optimal routes for games that demand low latency and high reliability.
WHY CHOOSE TCPSHIELD
Unified Management
Trusted by some of the largest players in the space, including MineSuperior and VanityMC. Manage your service with our fully self-serve panel.
Simple Management
Adding a new server is as easy as specifying a domain and backend IP address, then pointing your protected CNAME record
Version Insights
View the most popular Minecraft versions your players have used over the past 7 days, and see when layer 7 attacks happen with our real-time graphs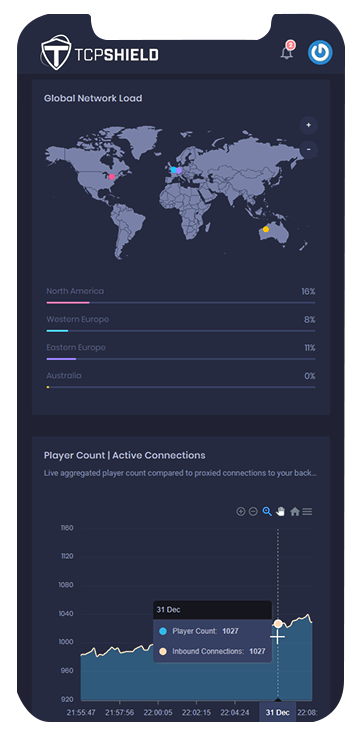 Documentation
Our extensive guides will help you get your server provisioned on our network stress-free. If you need to talk to a human, we're always here
For Everyone
Start protecting your network at no cost and join the secure platform entrusted by over 6,500 customers protecting their communities from formidable threats!
Get Protected
With our self-serve panel, you can get your server protected in as little as 5 minutes!